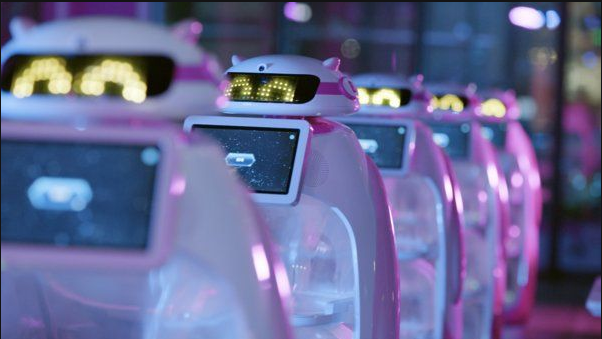 You may be debating whether or not you're ready to go back into a restaurant. But what if that restaurant was operated entirely by robots? Would that make you more inclined to eat out?
Earlier this week, the Qianxi Robot Catering Group, a subsidiary of Country Garden, opened up a robot-powered restaurant complex in the city of Shunde in China's Guangdong province.
The complex is 2,000 sq. meters (more than 21,000 sq. ft.) and serves Chinese, hot pot and fast food. The restaurant can serve 600 diners at once, offering 200 menu items that can be served up in as little as 20 seconds, according to the press announcement.
The complex has more than 20 robots developed in-house by Qianxi that cook up a variety of different styles including Chinese cuisine, clay pot rice and noodles. Though the press release doesn't mention them specifically, from the accompanying photos, there is also a small army of pink server robots to bring dishes out to tables. No word on whether these were developed in-house as well, but they don't look like the server robots make by PuduTech, Keenon or Bear Robotics.
Country Garden's restaurant certainly isn't the first to use robots. Spyce Kitchen in Boston uses robots to cook. Caliburger has Flippy grilling burgers. And Bear Robotics' Penny server bot has been put to work shuttling food in restarants. But Country Garden seems to be among the first putting all of the front and back-of-house pieces together, and doing so at scale.
In addition to a having a bunch of robots, the Country Garden restaurant is also contactless, a factor increasingly important on our pandemic planet. As restaurants re-open here in the U.S., businesses and eater alike are grappling with restrictions like facemasks and socially distant tables. Having a full-on robot restaurant isn't a guarantee to prevent the spread of COVID-19, but it does remove some human vectors from the equation.
It's a question I've asked before, but what will make people more comfortable inside restaurants: the human touch while wearing a facemask and gloves, or the cold sterility of a robot?