According to the news released by Demonstration Zone of Cooperation Between Beijing and Tianjin of Tianjin Binhai High-tech Zone on January 27th, a piece of industrial land covering more than 20,000 square meters was purchased by Country Garden's Qianxi Robotics Group (hereinafter referred to as "Qianxi"). In this prime location, Qianxi plans to invest 300 million yuan to build a central kitchen that provides supply chain guarantee for robot restaurants.
This gives a peek into Country Garden Holding's (hereinafter referred to as "Country Garden") efforts to increase its presence in the robotics sector. Since Country Garden officially announced its new step into the robot industry in 2018, attention has been given to every move it has made, particularly in the two major sectors: Bright Dream Robotics, specializing in construction robot, and Qianxi, specializing in catering robots. For the catering robot sector, Yang Guoqiang appointed Qiu Mi from Country Garden's Hunan area as the boss of Qianxi.
This post-80s female boss, with short hair and fair skin, wears black-rimmed eyeglasses. Over the past year and more, she has been telling the story of how Country Garden made the robots "take center stage". People can't help but questioned: where will this new boss take Qianxi?
Qiu Mi was rarely interviewed. Recently, she was interviewed by Nanfang+. In the dialogue, she recapped how Qianxi developed from scratch in great detail, and frankly said that "pioneers" face great difficulty and risks. Yet as Yang Guoqiang mentioned, failure is also valuable, and sooner or later, someone will succeed through an experential process.
Of course, Qiu Mi hopes that she will be the successful one.
Qiu Mi
Yang Guoqiang's "Appointment"
One day in April, 2019, at Country Garden Holdings headquarters in Beijiao, Shunde, Yang Guoqiang and Qiu Mi sat face to face. They talked all about robots, nothing to do with the real estate. Looking back, this heralds Qiu Mi's transition from a real estate salesperson to a technology entrepreneur.
Prior to that, Qiu Mi was the first female project manager at Country Garden. In 2015, Qiu Mi took over Country Garden's Zhangjiajie project. The project was developed in 2007 yet could not be sold by several project managers due to incorrect project positioning. It is indeed a "hot potato".
Qiu Mi, however, has her own way of marketing-after graduation, she joined a real estate company as an in-house lawyer. When she was in job rotation as an intern, she became "top sales" for three consecutive months, and thus accidentally became a practitioner in the real estate sales and planning area. Before employed by Country Garden, Qiu Mi had extensive experience in tourism real estate.

Based on her experience, Qiu Mi transformed the Zhangjiajie project following a standard different from that of Country Garden. These transformations have worked wonders. Within four years, Zhangjiajie project saw a total of two billion yuan in sales, almost the same amount as Qiu Mi planned four years ago.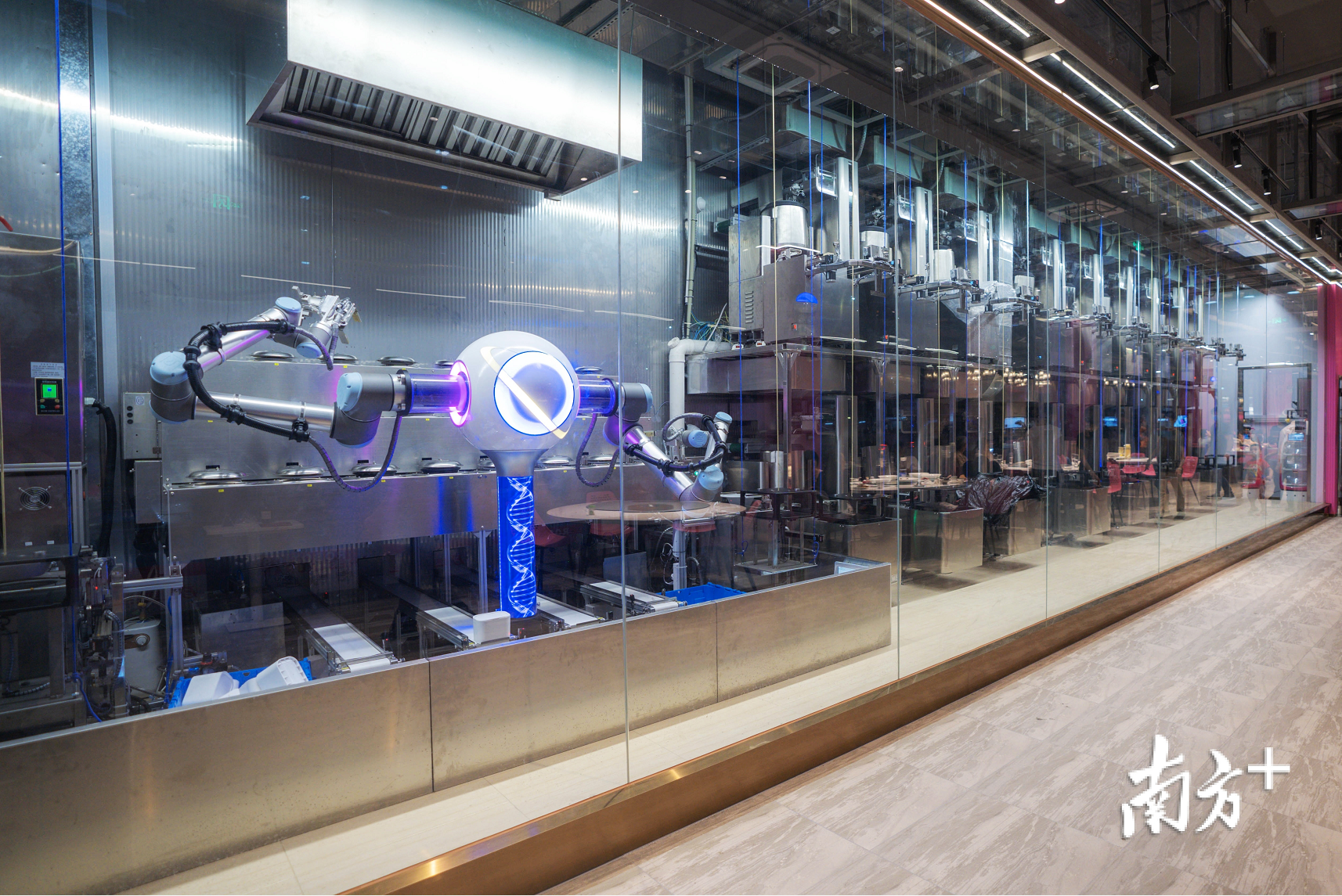 Qianxi's Robot Restaurant
In February 2019, Yang Guoqiang traveled to Zhangjiajie. He accidentally discovered that the lifeless Zhangjiajie project is now a hit. In fact, Qiu Mi was anxious when Yang Guoqiang arrived as Country Garden has all along avoided "non-standard" projects, and those are exactly what Qiu Mi was responsible for.
"She has ideas." Yang Guoqiang recognized Qiu Mi's performance with these words. Two days later, Qiu Mi received a phone call from Yang Guoqiang's secretary, inviting her to report to the headquarters. Qiu Mi didn't realize, at that time, that a turning point in her career awaited.
Qiu Mi held in her hand materials for the report, waiting to answer Yang Guoqiang's questions. However, Yang did not ask anything about the Zhangjiajie project. Instead, he started to talk about his robot dream. Since Country Garden officially announced its cross-border step into the robotics field in 2018, Yang Guoqiang attached great importance to the robotics sector, everyone in the company knows that.
At that time, Bright Dream Robotics, specializing in construction robot, developed by leaps and bounds. The catering robot, however, has yet to take shape.
"Would you like to be the general manager of the robot restaurant?" After talking about his robot dream for two days, Yang Guoqiang offered Qiu Mi a position. Qiu Mi refused to accept the offer in the first place. She has dedicated to the real estate industry for more than ten years, robot restaurant is totally new for her. She never takes over tasks when she's not sure she will do it well.
"Think twice." Yang Guoqiang said. Qiu Mi stayed and thought about it for another three days at the headquarters. Yang Guoqiang also talked to her about his dreams for three days. After working for eight years at Country Garden, Qiu Mi understood that Yang Guoqiang must have thought it over when he proposed an idea. It is definitely not a spu capable of assuming this position."
"I will give you 1 billion yuan. If you can't make it, return to your previous role." Yang Guoqiang told Qiu Mi.
"No one in my life has ever offered me one billion yuan. I take this as an exciting, may be once-in-a-lifetime opportunity to start up a business." Qiu Mi thought, if she didn't make it, she will be a lifetime salesperson and never would think of starting a business anymore.
In April 2019, Qiu Mi officially became the general manager of Qianxi Group. She set a goal for herself-open the first robot restaurant in August 2019.
Set the Foundation from Scratch
"Fast" has long been Country Garden's strong suit. However, it is almost impossible to build a robot restaurant from scratch within three months for Qiu Mi, as she has never been trained in the technical field.
Back then, Qianxi has built an elite team with 78 members, half of them are doctors and masters. But robot restaurant is something new with no precedents to refer to. Although the members at Qianxi's team are very well-educated, they are "laymen" when it comes to making catering robots.
Qiu Mi and her team adopted a "traditional approach"-simulation over and over again. In order to make a Chinese dish, the R&D team first observes how the chef cooked, simulates the process, and then transforms it into a language that the robot can understand through datamation. Then the robots stir-fry for several times until the dish tastes as it supposed to, and in the end, only one set of data can be adopted.
Qiu Mi asked the team to buy vegetables by the ton, "stir-fry a hundred or even a thousand times, until it works." This process is quite frustrating. "Frustration strikes me almost every day." Qiu Mi said. It takes at most over 2,000 attempts to properly stir-fry a dish.
In fact, Qianxi's first robot Chinese restaurant did not officially open until January 2020, missing the deadline by five months. By the end of January 2021, Qianxi Robotics Group opened a total of more than 50 robot restaurants in the Guangdong-Hong Kong-Macao Greater Bay Area.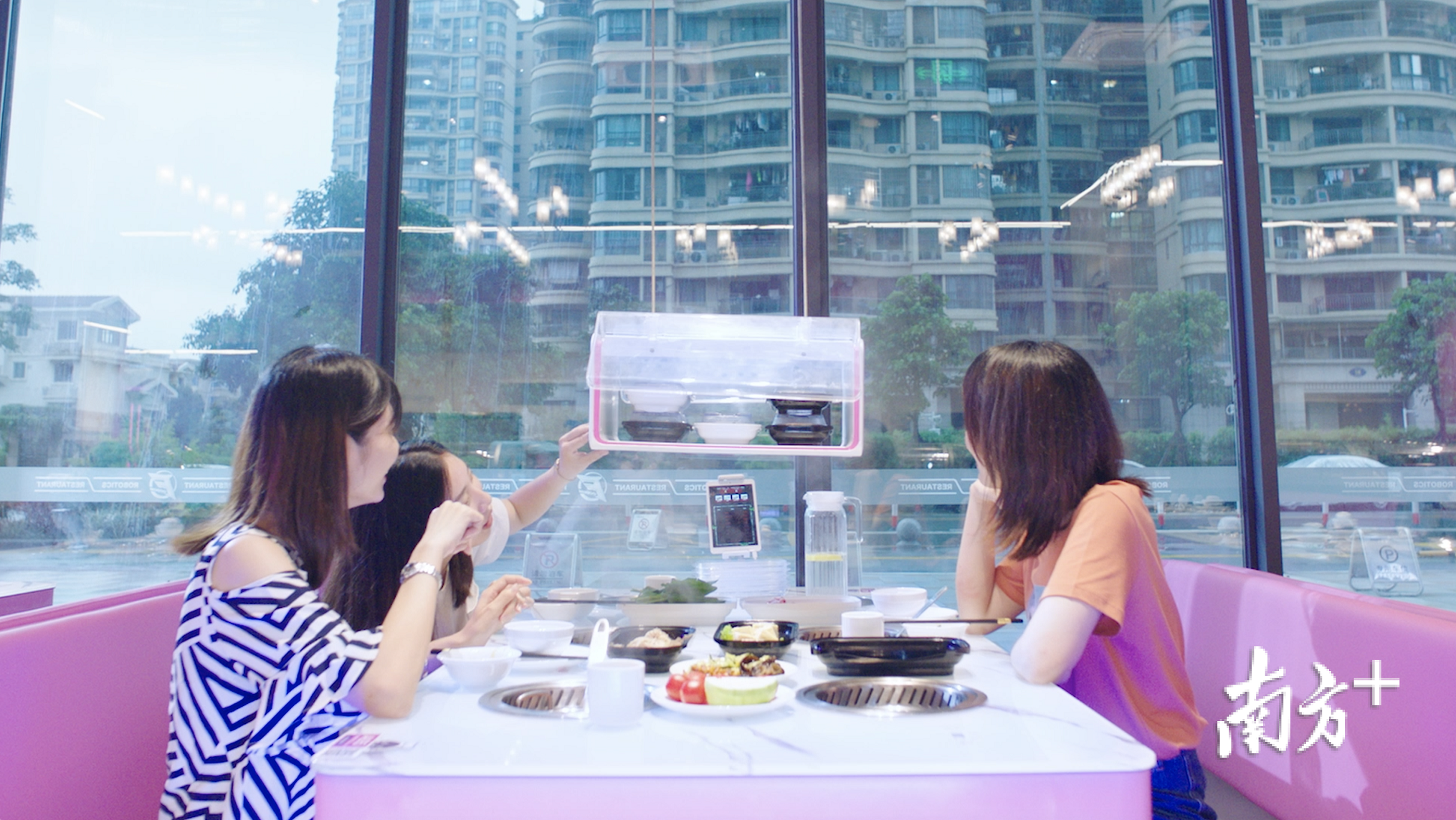 Qianxi's Robot Restaurant
To Qiu Mi, it is now still the time to explore and lay the foundation for the development of the catering robot. "Making profits does not matter the most even for the operation of the first 100 stores. They serve for market attempts, device iteration, test and business model adjustment."
Among them, device iteration is one of the most important roles assumed by Qianxi Restaurant. Each robot restaurant is a large-scale "testing ground" for the equipment. In Qiu Mi's imagination, setting up restaurants is not the only goal. Qianxi Robot aims to become an equipment company that sells its equipment to restaurants all over the world in the future.
This also explains why Qianxi developed five catering brands one after another in the previous year, covering multiple catering scenes. It aims to develop and test different types of catering robots.
Qiu Mi noted: "we have to be an expert on hot pot if we want to sell hot pot devices to 400,000 owners of hot pot restaurants across the country." In the first place, Qiu Mi also thought about working with chain restaurants for co-development, while in early days, no chain restaurant was willing to have a try. Therefore, Qianxi has to make its own attempt.
Hot pot twin-arm meal-taking robot
As of January this year, more than 400 Qianxi's stand-alone robot devices, both stand-alone devices in Qianxi stores, and those sold and leased, were operated.
The "small and beautiful" devices such as ice cream robots were the first to be widely applied. Quite a few shopping malls purchased this type of robots as kids love them. In addition, stand-alone devices such as container clay pot robots, burger robots, and coffee robots have been mass produced.
Last year, Qianxi also distributed five central kitchens across the country. This year, 10 more central kitchens will be put in place, and the food supply chain basically covers the whole of China. Meanwhile, in the second half of last year, Qianxi built a factory that covers 60,000 square meters and nine fully automatic production lines. This year, the factories will cover 150,000 to 200,000 square meters.
On January 27 this year, Qianxi purchased a piece of industrial land that covers over 20,000 square meters in Tianjin Binhai High-tech Zone. 300 million yuan is expected to be invested to build a central kitchen in Beijing-Tianjin-Hebei region.
Qiu Mi predicts that in 2021, Qianxi's plants will see an output value of 10 billion yuan. "In the past, monthly output may be calculated, but looking ahead, we may calculate the number of machines that can get offline per line per day."

The Actions Taken and Not Taken in Qianxi's Quick Expansion
At 2021 Country Garden's annual work conference, Qianxi set a new goal: building itself into the world's largest catering group and catering equipment manufacturer.
This is an ambitious goal, yet Qiu Mi is confident. At the end of January this year, Qiu Mi stressed that before and after the Spring Festival, Qianxi could have more than 80 stores, double the original number. In the meantime, an increasing number of stand-alone devices are to be produced on a large scale, and the number of restaurants equipped with Qianxi devices will see explosive growth in the coming year.
Qiu Mi is convinced that in the new track of competition, the only competitive advantage that lasts long is the ability to learn faster than competitors. Therefore, the phrase "speed up, speed up, and speed up more" can be seen everywhere in Qianxi's offices.
Growing confidence originates from the vast market space that Qiu Mi noticed in the past year. "Catering has become healthier and safer-an inevitable development trend towards the future." In 2020, the catering industry was hit hard by the pandemic, yet the concept of contactless catering has caught attention. At the beginning of last year, Qianxi's clay pot robot devices have also been applied in the frontline of Hubei's pandemic efforts.
Clay Pot Robot
Qiu Mi also discovered recently that, Winter Olympic organizers, the military, and some large-scale restaurant chains have developed interests in Qianxi's restaurant robots.
In September 2020, 2020 Guangdong 21st Century Maritime Silk Road International Expo opened in Guangzhou. Qianxi's 23 self-developed robots appeared at the exhibition. This is Qianxi's first appearance in a large-scale exhibition. On the same day, leaders of Guangzhou Municipal People's Government led a group of ambassadors to visit Qianxi's booth. At the scene, ambassadors from various countries were keen on the products, foreign envoys even proposed possibilities of cooperation on the spot. Qiu Mi is thus bullish on the international market of the future.
The market is worthy of the wait, and Qiu Mi's confidence also derives from Yang Guoqiang's obsession with high technology.
"People notice such a potential market, but they are not willing to be the "pioneer" as it requires huge capital investment with high probability of failure, which takes sufficient persistence." Qiu Mi said. "I will not take the credit for the future success of Qianxi Robot, it should be attributed to Mr. Yang's advanced high-tech idea and his obsession with the philosophy of delivering a better life for mankind through scientific and technological revolution."

Nevertheless, failure is also inevitable in starting up businesses.
Qiu Mi was often challenged since she joined Qianxi. Qianxi's first restaurant was criticized by the public. Some say it is a "toy maker" instead of a robot restaurant. Some even argue that Qianxi was squandering money made in real estate. The team members asked Qiu Mi if explanations are needed, Qiu Mi remained silent.
"When you did a good job, others will change their mind, yet explanation means nothing when things are yet to be properly finished. We need to focus our attention on doing the right things." Qiu Mi said.
Today, Qiu Mi has a clearer image of Qianxi's business model and future development. Qianxi's achievements are also being recognized. Qiu Mi, however, believed that actions speak louder than words. According to Qiu, this might be her only interview with the media in the near future. Moving forward, she will devote herself to Qianxi' development and technological innovation.