A Chinese business claiming to be the world's first "robot restaurant complex" officially opened Monday in the southern Guangdong province.
FOODOM Tianjiang Food Kingdom — located in Foshan's Shunde District, an area hailed as the "cradle of Cantonese cuisine" — is the sixth automated restaurant operated by Qianxi Robot Catering Group.
The label "robot restaurant complex" speaks to the restaurant's scale, range of cooking robots, and synchronicity of its system: The facility has a seating capacity of nearly 600 diners and accommodates over 40 robots capable of cooking some 200 dishes from three basic categories: Chinese (including Shunde specialities), hot pot, and fast food. Qianxi Group's other automated restaurants, though similar, don't serve such a wide range of cuisines under one roof.
Guests arriving at the pink-and-white restaurant make their menu selections with wide-eyed robot waiters. When ready, the food is delivered directly to their table from a skyrail system or brought in on a tray. Some robots, such as the burger machine, serve customers 24 hours a day.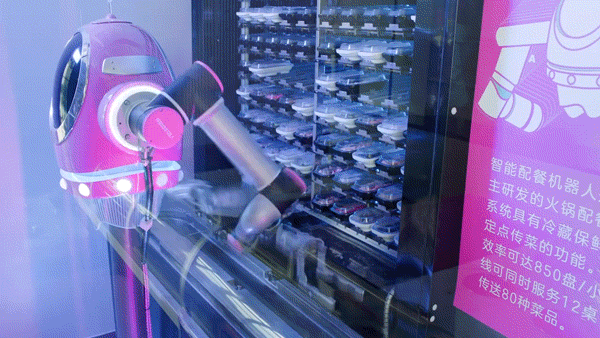 Xiao Ran, deputy general manager at Qianxi Group, told Sixth Tone that robot cafeterias are more efficient in terms of both space used and required cooking time than their human-operated counterparts. The robot restaurant complex's noodle-making robot, for example, takes up 4 square meters of floor space and can churn out 120 dishes per hour if needed. They're also safer, he said, thanks to a standardized cooking process and the absence of human-to-human contact.
"A complete scientific control system and the widespread use of smart equipment reduce the risk of (coronavirus) infection," said Xiao. "This makes it safer and more hygenic."
The cooking robots "learned" how to prepare complicated Chinese dishes by imitating the actions of experienced human chefs, Xiao said, then had their operations improved through a lengthy trial-and-error process.
"For a simple-looking dish like chicken broth cabbage, the frying temperature, frying time, the number of times it should be flipped — all of these variables need to be adjusted over the course of more than a thousand attempts," he said.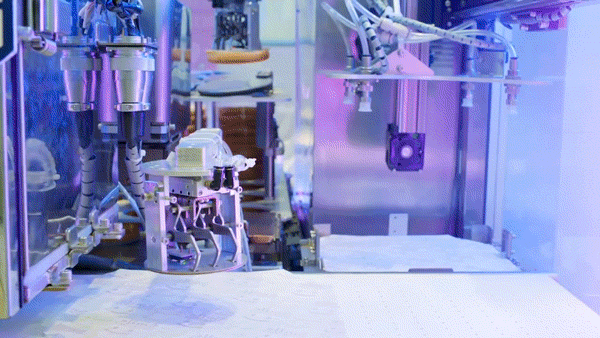 Qianxi Group's parent company, real estate developer Country Garden, entered the field of robotics when it founded the subsidiary company in early 2019. Since then, Qianxi Group has created 61 robot prototypes, applied for over 500 patents, and now boasts a research and development team of over 300 staff. The group's six automated restaurants are served by a 60,000-square-meter food processing complex in the nearby city of Dongguan.
China has an enormous appetite for all things robotic. Its industrial robot sector is the largest and fastest-growing of any country in the world, growing 21% in 2019 to a market value of $5.4 billion. Factory robots are crucial to cutting production costs and maximizing workers' efficiency.
Recent years have borne witness to attempts to mechanize all manner of tasks and professions, including welcoming guests at conferences, teaching in the classroom, presenting the news on TV, and even sex. In the medical field, China has relied on robots to assist the elderly, diagnose patients, and administer acupuncture.
The need to minimize human-to-human contact during the COVID-19 pandemic has given robots an elevated platform. Since January, they've been used to disinfect hospitals, serve food to sick patients, and patrol the streets. Some of these robocops can do everything from taking people's temperature and delivering public safety messages to chastising anyone caught without a face mask in public.
"Please wear a mask, pay attention to personal hygiene, and avoid crowded places," such robots — even airborne drones — broadcast via loudspeaker in bustling cities. "If you feel unwell, seek medical assistance promptly."
The pandemic has also given niche businesses like unmanned convenience stores and automated grocery delivery services a new lease on life. During China's COVID-19 peak in February, Qianxi Group sent a Wuhan hospital a robot capable of preparing over 100 portions of clay pot rice per hour, eliminating the risk of transmission from human contact.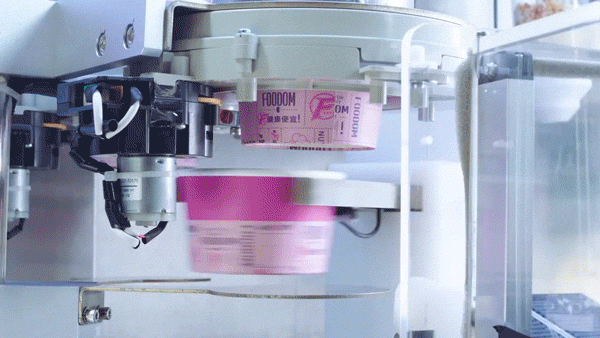 News of FOODOM Tianjiang Food Kingdom's official opening has been generally well-received on Chinese microblogging platform Weibo, with netizens praising the venue as a unique dining option with an eye to the future. Reviews for some of Qianxi Group's other automated restaurants, however, have been lukewarm. On the popular review app Dianping, another FOODOM restaurant has an average rating of 3.8 out of 5 based on just 13 reviews.
A patron who left a review in May said they were disappointed to find that the restaurant still had staff working behind the scenes and felt that the dishes' vegetables and ingredients were too precisely cut, lacking a human touch.
"I can only say that my expectations were too high. Reality is cruel," the reviewer said with melodramatic flair. "However, I must give it some praise: The char siu pork is really excellent!"
Editor: David Paulk.
(GIFs: From @碧桂园 on Weibo)
(Header image: A screenshot of a robot waiter at Qianxi Group's newly opened "robot restaurant complex" in Foshan, Guangdong province, 2020. From @碧桂园 on Weibo)