Fu Longcheng, Chairman of China Cuisine Association, accompanied by Ou Weizhong, Captain of Shunde Comprehensive Law Enforcement Detachment of the Culture, Radio, Television, Tourism and Sports Bureau of Foshan Municipality, and Chen Jian, Dean of the Culinary Institute of Shunde Polytechnic, paid a visit to the Qianxi Tianjiangmeishi Food Kingdom Robotics Restaurant on the afternoon of November 7. Dr. Xiao Ran, Deputy General Manager of Qianxi Robotics Group, received the visiting delegation.
With a detailed briefing on the research and development of the robotics restaurant, the transformation of culinary techniques, supply chain management and branch operation.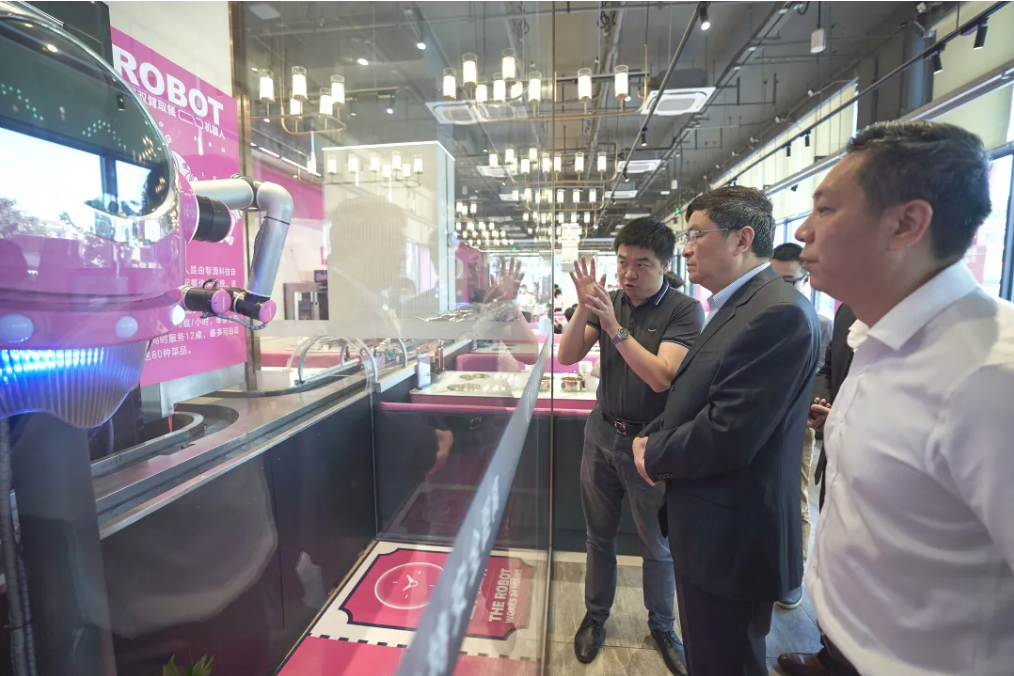 Dr. Xiao Ran briefs on the hotpot smart sorting system.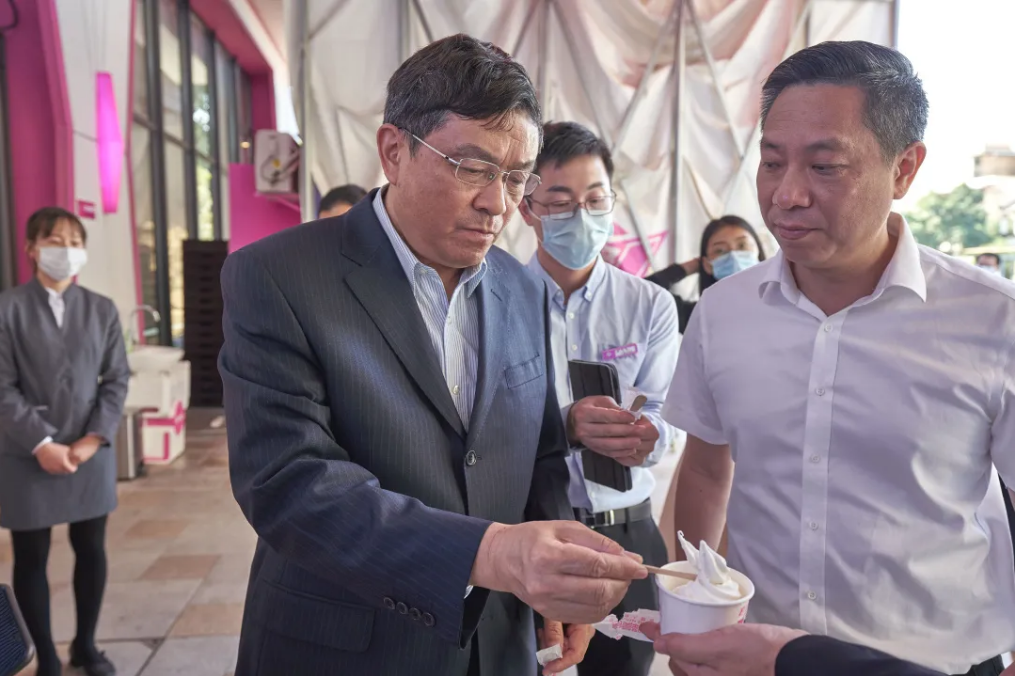 Chairman Fu Longcheng and Captain Ou Weizhong taste robot-made ice cream.
The visiting guests were particularly intrigued by the hotpot smart sorting system and the Chinese food cooking and delivery system, and tasted a variety of delicious food including Chinese food, ice cream, burgers and French fries. They all spoke highly of the standardization of Chinese food, efficient and safe meal preparation and low-cost operation achieved by the catering robots.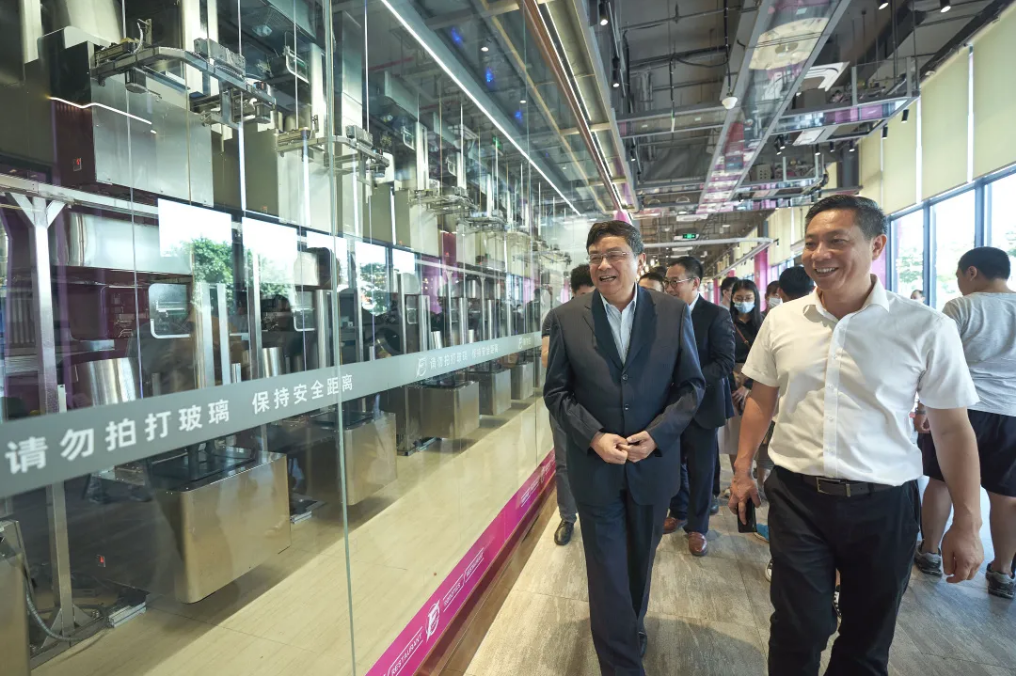 The visiting guests observed an array of Chinese food cooking robots.
After detailed briefings on the research and development, manufacturing and operation cost of a variety of catering robots, Chairman Fu Longcheng stressed that while western-style fast food is highly standardized in large-scale production, the standardization of Chinese food remains a challenge of the industry due to its cuisine variety and complexity. It's a highly valuable and innovative attempt to standardize Chinese food with self-developed catering robots. He looked forward to Country Garden and Qianxi Robotics Group's future efforts to make more contributions to the development of the catering industry.
Observing the burger making process.
Established in 1987, China Cuisine Association is a national organization consisting of enterprises, public organizations, social groups and practitioners in the catering industry. Since its establishment, the association has exerted efforts in industry organization, industry self-discipline, resource integration, business coordination, international exchange and personnel training, and has played a positive role in promoting the industry's progress and development. Going forward, Qianxi Robotics Group stands ready to strengthen communication and cooperation with China Cuisine Association and jointly contribute to the development of smart catering.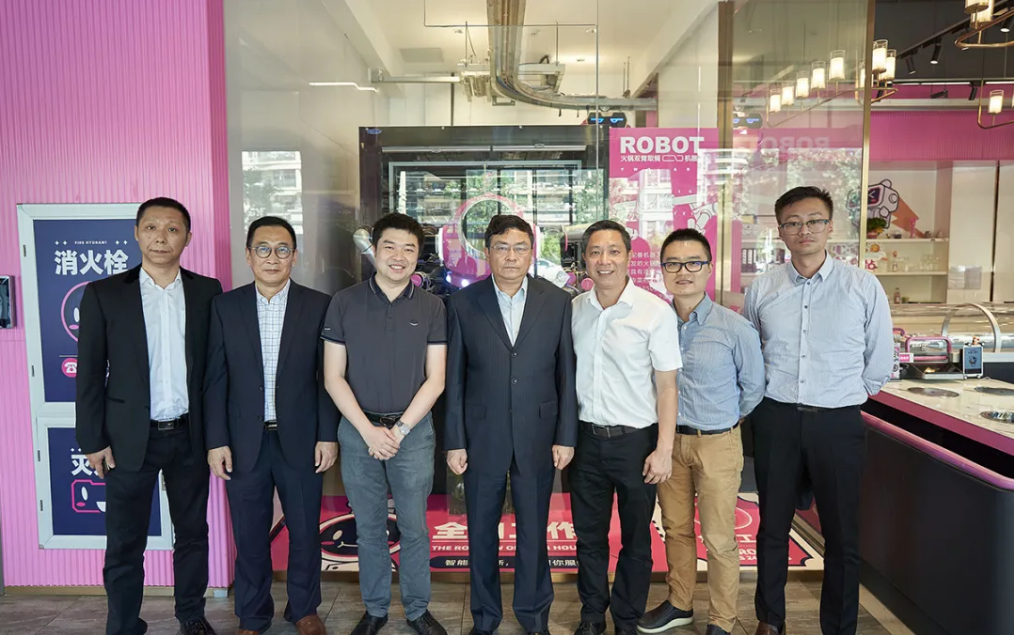 Group photograph of the guests and the hosts.