Zhao Guangqing, Naval Security Minister of the Eastern Theater Command led a working group of more than 20 people to visit the Qianxi Robotics Group on January 21 and took a tour to the robotics restaurant project. Dr. Xiao Ran, deputy general manager of the Qianxi Robotics Group, received the working group with a detailed briefing.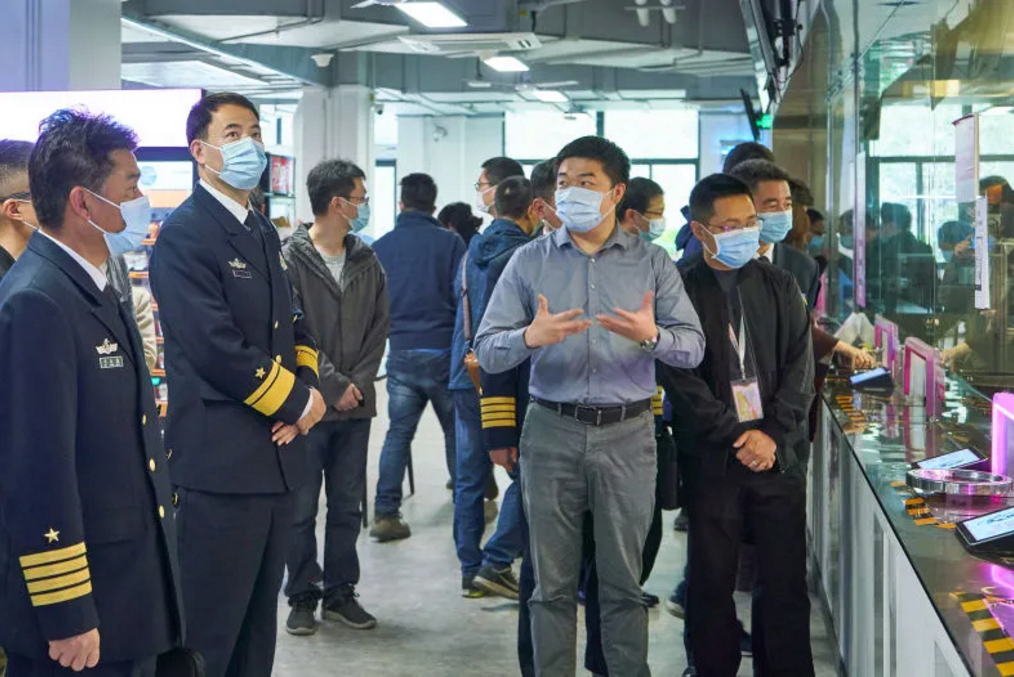 The guests and the hosts took a tour around the Smart Cafeteria.
The working group led by Zhao Guangqing toured around the Phase 3 Smart Cafeteria and the Tianjiangmeishi Food Kingdom Robotics Restaurant at the headquarter of Country Garden, and took an in-depth look into the design concept, function and layout, and operation model of the Smart Cafeteria and the Robotics Restaurant, as well as the performances of a variety of catering robots.
Dr. Xiao Ran (far right) briefed Zhao Guangqing (second from left) on the catering robots
Dr. Xiao Ran briefed the guests on Qianxi Robotics Group's endeavors in developing the smart catering whole industry chain with self-developed catering robots at its core, and briefed detailedly on a number of signature products with high efficiency in meal preparation including Claypot Rice Robot, Hamburger Robot and Smart Steamer.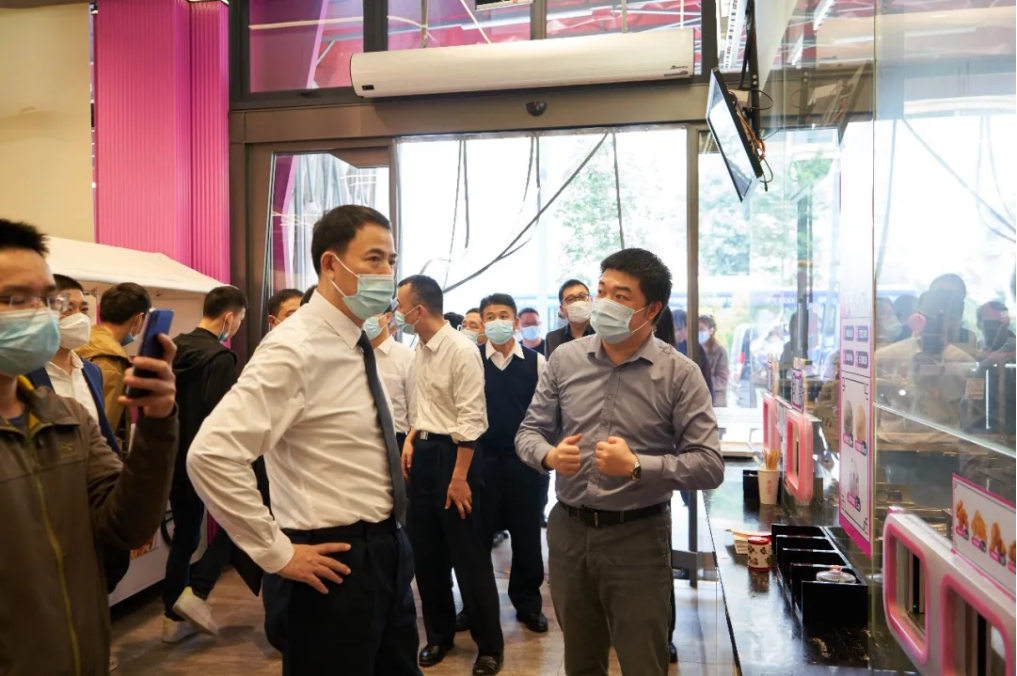 The guests and the hosts took a tour around the Tianjiangmeishi Food Kingdom Robotics Restaurant.
Zhao Guangqing said that while the reputation of Qianxi Robotics Restaurant preceded itself, he gained a more well-rounded understanding of Qianxi's smart catering and witnessed the huge potential of catering robots through this visit. He looked forward to closer communication and further cooperation possibilities between the two sides, hoping to enhance integration between smart catering and national defense development to provide logistics support for the army.
Dr. Xiao Ran (far left) briefed Zhao Guangqing (second from the left) on the hot pot smart system.
Dr. Xiao Ran said that as a self-developed innovative and scientific product that was made less than two years ago, the Qianxi catering robot has given full play to its distinctive values at the frontline of the pandemic response, gaining widespread recognition from the society. In 2022, Qianxi Smart Cafeteria will provide 24-hour catering service for global media during major sports events, and, as a highlight of the "high-tech and smart sports events", it will unveil to the world the perfect integration and leading practices of smart technology and Chinese food culture. The visit of and recognition from the Eastern Theater Command break new ground in the application scenario of catering robots, and it will also be an honor and a responsibility of Qianxi Robotics Group to have the opportunity to facilitate national defense. Qianxi Robotics Group will maintain close communication with relevant departments of the army to jointly explore and promote the application of smart catering in national defense.